Winners announced
The Walker & Hall Waiheke Art Award 2019 is proudly sponsored by Walker & Hall in association with Casita Miro Vineyard,The Skin Institute Waiheke, and the Waiheke Community Art Gallery. This is a National Award for two dimensional works in any medium and has a Prize of $5000 as the Premier award. This year's selector and judge is Clive Humphreys - Artist and recently retired to Waiheke. Former Head of School, Dunedin School of Art at Otago Polytechnic.
The Winner of the Premier Award: Struan Hamilton for his work Te Toki Study: Photo intaglio.
'Stemming from explorations of the organic within the urban environment, this piece is from a body of work that focuses on individual entities, and investigates the architectonic arrangements and commanding presence revealed through an abstracting of natural structure, particularly in older trees such as the Pōhutukawa.'
Michael Evans Award for a figurative work: Sarah Guppy - Water-Craft: Acrylic and crayon on gessoed board
'..WATER-CRAFT The vessel is a traditional symbol of creating something to carry someone or thing. Water is also understood to carry emotion, relate to the moon and a place to float, swim and perhaps survive. In this painting I explore these feelings, paying homage to Wallis and Wood – English painters'
Zinni Douglas Merit Award: Judy Woods - Playtime: Acrylic + mixed media on wood panel.
'..I paint intuitively responding to what shows up as I play with materials. The work is unplanned and I've become enchanted with the accidental mark and element of surprise'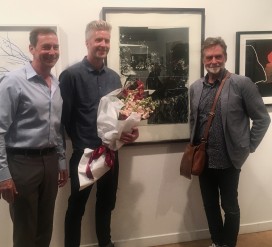 L - R) Joseph Tattersfield from Walker & Hall, Premier Award winner Struan Hamilton and Selector and Judge Clive Humprheys with Struan's work Te Toki Study.
The finalists: Denise Batchelor, Hana Carpenter, Cathy Carter, Linda Cook, Amanda Densham, Antony Densham, Ekarasa Doblanovic, Anah Dunsheath, Michelle Farrell, Liam Gerrard, Linda Gilbert, Mark Graver, Sarah Guppy, Struan Hamilton, Russell Jackson, Susanne Kerr, Mei Ling Lee, Kaye McGarva, Maggie McGregor, Jasmine Middlebrook, Sue Pearce, Peter Rees, Sue Reidy, Mo Stewart, Marie Strauss, Heather Taylor, Heather Taylor, Jacquie Ure, Barbara von Seida, Michael Walker & Ellen Johansen, Amanda Watson, Raewyn Whaley, Becs Wood and Judy Woods.