Small Sculpture Prize 2021 Award Winners announced
New Plymouth artist wins New Zealand's only small sculpture prize
New Plymouth artist Volker Hawighorst is the winner of the 2021 Small Sculpture Prize, for his work Dimly #7, a sculpture created entirely from plastic bread tags. In talking about the work selector Hamish Coney mentioned the subtle colour shifts that pull the viewer back again and again, revealing connections to tukutuku and links to the works of Roasalie Gascoigne and English painter Bridget Riley. It successfully makes the jump from found materials to modern day sculpture.
The $3,000 prize is the only award for small sculpture in New Zealand, and the exhibition is proudly sponsored by Perpetual Guardian, in association with Te Motu Vineyard. The award was announced at the Waiheke Community Art Gallery on 2nd April by Jennifer Tweed of Perpetual Guardian.
A total of 30 finalists were selected for the exhibition from an initial 80 In commenting about the exhibition, Hamish Coney, quoted the Whakatoki, Ahakoa, he iti he pounamu, despite being small you are of great value. He highlighted several works, one that although small was hefty in weight and scale, while another was small and perfectly formed, of honest materials that poetically echoed the West Coast of Auckland.
Two Merit Awards, supported by gallery benefactors were also announced and these went to Auckland artists Julie Moselen for her work Continuum I, and Chantel Matthews for "In pursuit of greatness without a Map"
The Small Sculpture Prize was initiated by the Waiheke Community Art Gallery fourteen years ago. It continues to draw entries from all parts of New Zealand and has become the benchmark for small sculptural exploration often offering artists the opportunity for critical review," said Linda Chalmers, Gallery Director.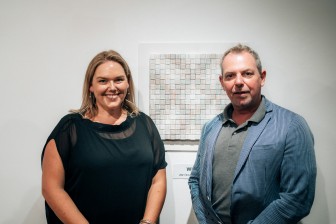 Jennifer Tweed from Perpetual Guardian and Hamish Coney in front of Volker Hawighorst's winning work Dimly #7